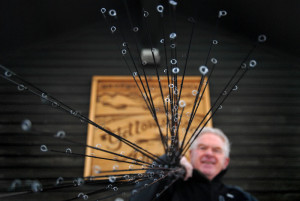 George Anderson: George is the general manager and owner of the Yellowstone Angler here in Livingston, Montana.  He started his fly-fishing career in the Catskill Mountains of New York but refined it the Rocky Mountain West while attending the University of Colorado and working summers in West Yellowstone Montana, managing a tackle shop there for the Eagles.  After graduating from CU's business school, George and his wife moved to Livingston Montana where George worked as assist. Manager for Dan Bailey's for six years before opening The Yellowstone Angler in the fall of 1979.  In 1985 the "new" shop was built where it exists today, a half mile south of Livingston on Highway 89.  Over the years George has written many fly fishing articles that have appeared in Fly Fisherman, Trout, Big Sky Journal, Saltwater Fly Fishing and several Scientific Anglers publications.  In 1989 and 1990 George won top individual honors at the Jackson Hole One-Fly in the only two years he fished in the event, setting records for numbers of trout caught on his own George's Rubber Legged Brown Stone nymph.  In addition he has appeared as guest angler on many television fly fishing shows like John Barrett's "Fly Fishing the World", and saltwater angling shows like Jose Wejebe's "Spanish Fly" catching big tarpon in the Florida Keys.  With Trevor Gowdy, George was the guest angler for two ESPN shows that were filmed in Cuba's Jardines de la Reina, flats fishing for bonefish, tarpon and permit.  George's love of saltwater fly-fishing has led to arranging and hosting saltwater trips each year with friends to various destinations in the Caribbean. George also hosts trout fishing trips each year to Alaska, Argentina, and other world-class destinations. When he's not fishing he enjoys golf, alpine skiing, scuba diving, bird hunting and riding his KTM motorcycles in the dirt and his Ducati motorcycles on the street.  You can e-mail George at: georgea@yellowstoneangler.com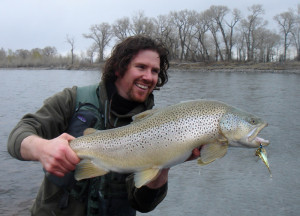 James Anderson: Born and raised here in Livingston Montana, "Jamie" was exposed to the outdoors early on. Fishing, hunting, and skiing were what his Dad liked to do, hence what he grew up doing. Even before he could walk Jamie joined his father on fishing expeditions. His first real fishing was chucking spinners at DePuy's pond with his Dad and grandfather, Joe. Not much later he began helping out at the Yellowstone Angler. Early job opportunities included picking up cigarette butts for a penny a piece and swatting flies. Through high school he learned the ins and outs of shipping and receiving, retail sales, inventory control, folding t-shirts, and putting gold stickers on the free bee fly boxes. A graduate of Middlebury College as a Chinese language major, James spent several years living and working in Taiwan and then China.  Before coming back to take over the controls at the Yellowstone Angler, he also spent a couple years in Dallas and San Diego. James has been lucky enough to fish in Argentina, Chile, Mexico, Cuba, Belize, the Keys, Alaska, and Sri Lanka.  He loves to fish, and has caught just about everything but Atlantic Salmon. He is dying to fish New Zealand, Canada, Ireland, Brazil, China, and Sierra Leone.  On his days off from the shop, he loves to go looking for big trout, feeding them with his own unique streamers.  As general manager, you'll find him in the shop most days and he's primarily responsible for content and all the great photos you'll find on our website.   James is a licensed Montana Outfitter, number #8969. Feel free to contact him at: james@yellowstoneangler.com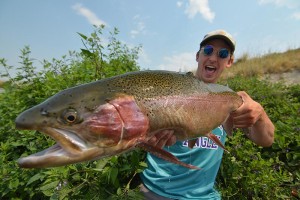 Josh Edwards: Josh began fishing the mountain streams of North Carolina and Virginia at age four. At the age of fourteen, he picked up a fly rod and has targeted trout, other fresh water fish, and saltwater species ever since. Brown trout and redfish know Josh all too well for his unique style of stripping abilities.  Josh particularly enjoys getting away from the crowds and hiking off the beaten path. His passion is catching native fish, whether it involves backpacking into the national forest for brookies or walking the extra mile for big cutthroat and grayling.   As such, Josh's knowledge of "off the radar" streams is extensive.  His willingness to share this valuable information has been extremely useful for customers who stop by the shop and are looking for a mountain creek get-a-way.  Normally we'd say if he is not in the shop, you can find him on one of the many streams, rivers, or lakes in the area – but in this case, (unless you're a die hard angler that fishes every nook and cranny in the state), chances are you won't be seeing him on the water.  Josh is a graduate of Appalachian State University and has a degree in advertising.  He is also responsible for a lot of our website and on-line catalog content.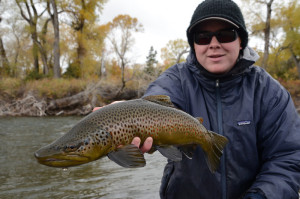 Logan Brown: Logan was born and raised in Longmont, Colorado.  His addiction for fly-fishing started in high school with frequent trips to Rocky Mountain National Park.  The St.Vrain River and some high alpine lakes were at the top of his back yard fishing list.  In 2005, Logan moved to Montana to pursue a degree in Political Science from MSU in Bozeman. During his four years at MSU Logan travelled all over the state, exploring all the amazing fisheries this state has to offer. If you have a question about a blue ribbon stream or main river Logan will know where to go, when to go, and what to use.  However, Good luck getting him to talk about his favorite smaller waters.  While attending MSU he took a semester abroad and traveled on a month long road trip across Azerbiajan, Georgia, Turkey.  He also knows more Australian slang than anyone we know, (which is pretty fair dinkum mate)!  He's fished for Bonefish and Permit in Mexico and is knowledgeable about saltwater tackle and flies.  Logan has been working in professional kitchens for 10 years now, so you can be sure that you're streamside lunch on guided float trips will be second to none!  In the winter, (which is about the only time you won't see Logan on the water), he is an avid snowboarder at Bridger Bowl.  Logan is now in charge of our guide booking but is also responsible for the majority of the big fish landed by our shop staff.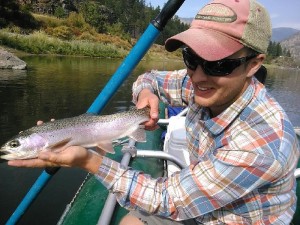 Josh "JG" Green: JG began fishing as soon as he was able to walk to his backyard pond in King, NC.  In his early years he focused on fishing for Bass and Panfish along the foothills of North Carolina.  While attending college in Western North Carolina Josh's focused switched to the vast fly fishing opportunities for trout in the local rivers and backcountry streams.  Fly fishing quickly became an obsession leading him to skip classes and important obligations to get his next fix.  JG followed his passion for the outdoors and fly fishing lifestyle to Missoula in 2014.  After quickly becoming overwhelmed with the "city life" in Missoula he began to look for solitude in Southwestern Montana.  He decided that taking a job working at Yellowstone Angler was a solid upgrade above living the hectic city life of Missoula. JG has quickly become George's go to shop employee for technical rigging.  His vast knowledge of knots and rigging techniques makes him a highly valued member of our shop staff. JG is now in charge of our online orders and helping with the day-to-day operations.